New Year's Goods Market
Since the Japanese colonization period, in prosperous Taipei City, "plenty to eat" has been the synonym of "Dihua Street." Meanwhile, the place with "plenty to wear" is "Huayin Street." From the Qing Dynasty to the early Japanese colonization period, the shops along Dihua Street were selling groceries, dried foods, tea, rice, cloths, and herbal medicine. Until now, Dihua Street is still the largest wholesale market of groceries, dried products, cloths, and Chinese medicine. The New Year's Goods Market always attracts huge crowds of people. The stalls along the New Year's goods streets are of archaic design, built with environmental materials. On both sides of the streets, there are flags and lanterns, creating an attractive sight for the New Year's consumers.
*Activities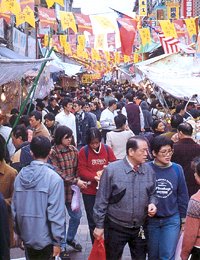 The Zhongqing North Road commercial circle, also called the Back Train Station, was the earliest commercial zone for consumer goods. It was the emporium of leather goods, clothing, and diverse merchandise. The goods sold there are not only of high quality, but also have the same sense of fashion with that of New York, Milan, and Tokyo. However, you can pay 50% to 70% of the marked price at department stores to buy the same products. Therefore, since 1997, Huayin Street began to set up a "New Year's market" in cooperation with the Chinese New Year's Goods Market, to sell the quality products there. The crowds that visit there are just as large as those in department stores.
source :
http://edu.ocac.gov.tw/local/web/Index.htm